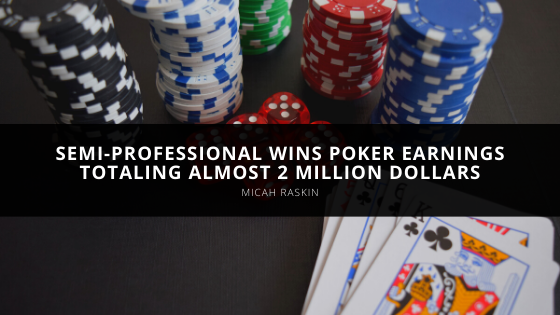 Semi-professional Micah Raskin Wins Poker Earnings Totaling Almost 2 Million Dollars
A semi-professional player, Micah Raskin dominates poker games across the country when not working on his own professional endeavors and volunteering with local outreach programs in Nassau and Queens County NY. To date, Raskin's earnings total almost 2 million dollars after playing dozens of top competitions for years. 
A seasoned winner at poker, Micah Raskin made his first live-event cash in 2007 and has developed a wide reputation for being one of the country's largest earners in the game. In the first four years of his poker career, Raskin cashed 25 times, made it to 16 final tables, won 4 major events, cashed at the WSOP three times, and earned almost $2 million. A native of New York, he graduated from Baruch College with a Bachelor's degree in Business Administration and today is president of a direct marketing company and a software company.
Micah Raskin's poker debut came during the 2007 World Series of Poker event (WSOP) in Atlantic City, NJ. During the event, he finished fifth in the $500 NLHE and ended up winning a total of $4,020 before it was over. In the same year, he played at the WPT Doyle Brunson Five Diamond World Poker Classic and earned just under $29,000 in the $15,000 NLHE. With his reputation set, he signed up for a handful of tournaments in 2008 and won a total of five separate cash prizes with the first at the L.A. Poker Classic.
He also cashed in winnings during the Bellagio Weekly Tournament, the Borgata Summer Poker Open, and the World Series of Poker event that year where he brought home $10,759 in the $1,500 NLHE. The fifth and final win of the year was at the $500,000 Borgata Deep Stack, where Micah Raskin earned $38,240 after finishing 9th in the $2,000 NLHE. Micah Raskin's poker earnings continued to stack afterwards including winning a position as runner up in 2009 at the $1,500 NLHE at the Borgata Deep Stack, which paid out a total of $140,850. 
Raskin won a whopping $320,231 during another round of the Borgata for the Deep Stack and finished in 6th place in the $500 NLHE at the WSOP Circuit, winning $18,071. He cashed seven times in 2010, earning $50,098 as runner-up in the $1,500 NLHE Mega Stack Challenge and $117,457 in the $10,000 NLHE Regional Championship at the WSOP Circuit event at Harrah's Atlantic City, among other wins. 
A decade later, Micah Raskin's poker earnings multiplied by hundreds of thousands of dollars after cashing in at events like the NAPT in Los Angeles, the River Guaranteed Poker Series, the PokerStars Caribbean Adventure, and the $10,000 NLHE 6-Max High Roller event. Over the years, he's proven himself a master of the game and a worthy opponent at some of the most elite and competitive poker events in the nation. Today, Micah Raskin is recognized as one of the country's top earners of all time.